India has the second-largest population in the world. The share of the younger population is increasing day by day. This entails a requirement for a large number of schools, colleges, professional institutions, skill development institutions. Hence, It is inevitable to foresee the prospect of career counselling market in India.
India has close to 400 million youth population. Close to 3 million students graduate every year, and almost everyone at some point in their lives requires career guidance. That is where career counselling comes into the picture.
The 21st century has revolutionized the domain of career counselling.
Career counselling market in India is growing exponentially. The current career counselling market in India is full of opportunities. With technology growing at a rapid pace, career counselling companies in India need to focus on providing students with a platform that provides a holistic view of an individual.
Edumilestones is considered to be the leading career counselling company in India. They are on a mission to counsel 10 million people in 5 years. The aim is to identify their passionate career path and a clear roadmap to achieve it.
They use AI-based career assessment platform. Using this multi-dimensional career assessment platform students and professionals are assessed on five key dimensions.
They have a career library of 175+ career paths which caters to the need of individuals.
Many careers have undergone some serious changes, many have become a buzzword, and many have become obsolete. This has led to a digital disruption and career counselling companies in India could make the most use of it.
AI, Data Science, Digital Marketing are the buzzwords which have gained prominence in the last decade.
With the dominance of new-age career paths, still, many of us are stuck in the same mindset. Arent we tired of hearing?
"Mera beta engineer banega", "Meri beti Doctor banegi", Govt job k baad life set.
Almost 92% of the students in India do not get career guidance at the right time. This results in a lack of career clarity and a career filled with regrets.
After a few years of struggling then if game and blame game starts.
If I would have done this?
If I would have followed my passion?
If I would have left my job?
It is because of my parents I am suffering so much.
"Because of pados waale Gupta and Sharma Ji, I have to spend my entire life doing this government job."
How many of you resonate with this?
Dont be a victim of your career choice.
Get career counselling done.
There are multiple perspectives to derive the demand for career counselling,
1. Overview of the target audience
India is a country where people finish their graduation and then wonder what they want to do in life.
You will see students who do engineering end up in sales, marketing, customer support jobs.
You will see students who take up PCM (Physics, Chemistry, Maths) end up doing B. Com, BA and then struggling to get placements.
Then many students who drop out of schools/colleges because they have no idea about their career.
Students who do graduation and then take a break to prepare for government jobs.
Look around. You will find many such cases.
Career counselling is the need of the hour. 400 million students and professionals in India need career guidance. There is an absolute gap in providing the right career guidance to students at a very young age.
Edumilestones vision is to create Indias most efficient and reliable career counselling ecosystem that creates life-changing experiences for students, professionals and career counsellors.
Career counselling ecosystem is growing at an unprecedented pace and will continue to grow shortly.
2. Awareness
Awareness about the importance of career counselling is spreading like wildfire. We have the youngest population in the world. However, there are still many students/professional who is only aware of a handful of career options.
A professionally trained career counsellor focusses on how the students manage their journey through life, learning and career. He/she is adept with immense knowledge, and with the help of accurate career assessment platform, a counsellor can map your interest to the right career path. Hence, a career counsellor is the essence of right career guidance.
Government and schools are promoting career counselling national wide. The government has discovered a need to engage and empower students by offering them career counselling and guidance. The National Curriculum Framework (NCF) 2005 gave rules to encourage stable development and advancement of students from elementary to higher secondary stages.
Many schools also recognize the role of counselling and guidance services in the overall development of the students.
Hence, the need for a school counsellor is also higher than ever.
Many teachers are upgrading and upskilling themselves by becoming certified counsellors. A teacher can cater to the need of the student better than anyone else. It will help in building a strong foundation for the student. The student will have a clear roadmap about his/her career.
3. Support and technology Infrastructure:
With the advancement of Online career assessment technology, Career counselling is offered from any location to the nook and corners of the country.
Edumilestones is creating an ecosystem that aids students and professionals with career guidance.
"With the launch of "career counselling near me", Edumilestones has created a complete ecosystem for students and professionals. Now, one can directly search and connect with career counsellors near them and make informed career decisions for themselves. The more people use it, the more the benefits it creates for the educational community. The solution is carefully designed to cater to the needs of the students and professionals in the metro, semi-urban and tier 3 cities as well.
4. Demand for career counselling:
Career counselling is more valuable than ever before. Let it be a student who is confused about which stream to choose or a professional who is worried about his career break. Career counselling has multiple dimensions, and it helps students and professionals choose their dream career path. Earlier, many people used to choose the career path because their friends and family said so, or just because it is so-called popular.
Now it is not the case. With the help of a trained career counsellor, you can choose your dream career path and follow your passion. A career counsellor helps you to understand your interests, skills and abilities and based on that he/she guides you in the right direction.
As technology is moving at a rapid pace, there are lot many new-age career paths which are emerging. Career counselling provides a clear roadmap on which career to pursue and how to be successful in that.
Every month there are close to 1 lakh people who search for career counselling online.
Close to 10 thousand searches for career counsellor near me.
Let us look at the result from Google Trends.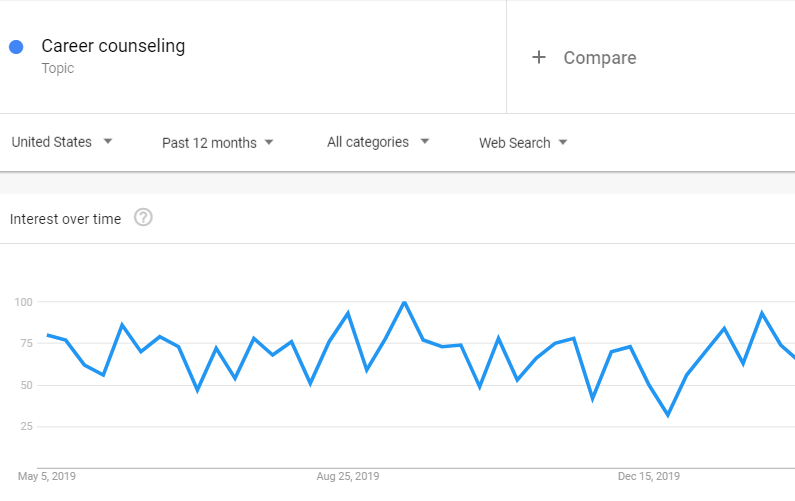 It clearly shows that the spike and demand for career counselling are exceptionally high.
5. Supply:
India needs 1.5 million career counsellors to cater to 400 million youths.
Currently, there are less than 5000 trained career counsellors available to address this growing demand. As per the India Today report, we need 1.4 million career counsellors in the next ten years. As we can see, there is a massive demand for career counsellors.
However, there is an acute shortage of trained and professional career counsellors.
Through technological advancement, career counselling business is highly scalable.
It makes the ideal recipe for the boom for career counselling industry for the next 25 years.
Edumilestones AI-Based career assessment platform is used by industry leaders and is considered to be the industry benchmark. Edumilestones vision is to create Indias most efficient and reliable career counselling ecosystem that creates life-changing experiences for students, professionals and career counsellors.
Career counselling is among very few services that are not impacted by the COVID-19 shut down in India. Ability to offer online career counselling for the students and professionals is the key reason.
The career counselling numbers are growing as the availability of the clients time becomes a positive factor.
If you are planning to start career counselling, Start now.
You will also like