It is said that "Time and tide wait for none" i.e. one has to make the best use of time, failing which one has no recourse except to repent. The ethos applies to select the right career in an unambiguous way.
Zurich study has discovered wonderful revelations about the secret to choosing the right career. They are called 'signature strengths'. Example - every human exhibit 3-7 of his/her signature strengths at the workplace like being friendly, approachable, responsible, procrastinate, initiator, dominator, and many more.
Now, if the career path is chosen based on individuals' signature strength in mind then the career success rate is higher. And if there is a mismatch then the individual will need training, counselling, certifications and educative aids to increase the success rate.
Choosing the right career path isn't always easy. It demands clarity, will power, dedication and focus to decide the path. It may be supplemented with professional guidance to achieve the desired result.
Though there may be many ways to select the right career, here are the most effective 7 tips to choose the right career option:
Know your interest areas
Know your personality
Explore the career prospects
Be realistic
Set your priorities and goals
Check your career fit
Focus and execute your plans
1.

Know your interest areas
The best way to understand ones' own interest areas is though self-assessment. Write down all the areas of your interests along with its strengths. For a while, lets' keep the money and scope of the interest aside & only focus on understanding our interest area. Example
Similarly, you can note down all your interest areas and then decide the best career path. Other ways of knowing your interests can be things that you have been attracted to since your childhood, things that you keep going back too, exploring and uninterruptedly doing it. This also can be an indication of your career interest.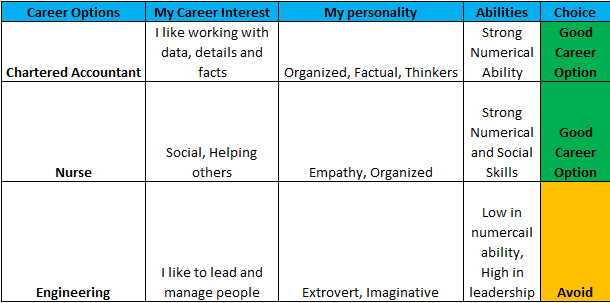 2.

Know your personality
When you see a car you know it is made up of metal, plastic, glass, colour, rubber, wire and many other things based on which the cars' behaviour is predicted. Similarly, with humans, our behaviour is predicted by the personality traits like – introvert, extrovert, thinking, feeling, judging, perceiving, the combinations of these traits decide our response to situations, choices, decisions, reactions and thinking patterns. Hence it is important to align our personality traits to a career path for higher success rate.
How to know your personality?
There are around 2500+ psychometric tests available. A test along with counselling helps in a big way before plunging into the career. To mention a few tests – i. Myers Briggs Type Indicator, ii. The Big Five, iii. Objective Test and many more.
Once you understand your personality trait, it will be easier to zero down on the career path.
3.

Explore the career prospects
Every career has its own graph. Training, certifications, awards and variety of other accolades surely helps in the growth of the career. Career prospects should also focus on understanding the reach of the particular career in the market viz Public, Private, Not for-profit organizations, independent entity etc.
Career Prospects include - Job Profile, Salary, job description, employment conditions, job location, training and growth. You might want to look at internships, volunteering programs, short term projects with companies which might help in understanding the deeper aspects of the job conditions.
How to understand career prospects?
i. Create your profile on networking sites example LinkedIn, connect with people, improvise on your socio-professional reach & get to know different professionals and their success path.
ii. Check out the job sites like Naukri, shine, IIM jobs, indeed and many more to check the scope of job opportunities available in relevance with your career.
iii. Keep visiting various company websites to see the job posting relevant to the field you have choose, it will give better clarity in understanding the company requires from the candidate.
iv. Connect with people from your chosen field and seek clarity and current market conditions and opportunities it brings with it.
v. If you have already enrolled with any college/institute for a course, check with the placement department regarding the companies and job opportunities they will be hosting.
4.

Be realistic
Considering your happiness above money at times takes you a long way in the career path. Be realistic with what you choose. Every field has its own flowers and thorns. Be mindful of how far you would want to compromise in the field. Follow the practical approach towards choosing and following the career path. Think of benefits and losses, being practical will help you make realistic decisions for which you can stand for, than causing more regrets later on. Remember shortcut to success is a myth.
5.

Set your priorities and goals
i. Where you are to where you want to be, decides your goals
ii. Plan, prepare, review and execute are the basics of goal setting
iii. Divide your goal in the short term, medium-term and long term goals
iv. Set timelines to your goals
v. Seek professional guidance and assurance
vi. Review your process and progress and make necessary changes
vii. Change your approach if youre facing too many challenges
viii. Learn skills in-line with your goals
ix. Take timely help from individuals/ institutes
x. Gain experience through various programs like volunteering, internships, open house discussion/ debate, online updates & career fairs.
6. Check your career fit
Career fitness is utmost important. Before you plunge into choosing any career, check for fitness. Fitness in terms of skills, language, location, job description, certifications & educational qualifications. We start our career hunt focusing on job scope then slowly stoop towards monetary benefits and eventually other fitness factors fade away. Therefore be mindful. Keep an eye on matching your skill development and career requirement. Work towards constant Upgradation of skills which will always keep some door of employment open.
Choosing the right career fit is now extremely easy with the help of career counselling. A trained career counsellor can help you gain career clarity and guide you in the right direction.
7. Focus and execute your plans
Tips to achieve
i. When you are planning you are bound to get several ideas, pour them on paper it will further help in narrowing on one, to start with.
ii. Then create a plan around it. How to go about? Challenges involved? Possible resolves!
iii. Think about available resources, resources that need attention or sourcing
iv. Re-plan, Review, Restart working your plans.
V. Check timelines and achieve
These are the 7 most useful tips to choose the right career option.
Share your favourite tip in the comment section below and let us know how are you planning to achieve it.
You might also like this: