Are you looking for admission in ignou for year 2021? Your wait is over.
IGNOU has opened registration link for july admission 2021. Students can apply on or before 15th of july 2021. Applications are open for all the 227 academic program across India
IGNOU admission 2021
IGNOU admissions are conducted for 2 intakes. These intakes are following
• Jan 2021 intake : Applications was open till April 30, 2021
• July 2021 intake : Applications are open till July 15th, 2021
IGNOU Admission selection criteria
IGNOU Follows following admission criteria.
1. Merit based admission: Admissions for following courses are purely based on merit and scores in 12th class
• BA
• MA
• B.SC
• M.SC
• BBA
• BCA
• MCA
• M.Ed
2. Entrance Test based : Admission for following courses in ignou are purely based on entrance test
• IGNOU BEd Entrance Test for B.Ed admissions
• IGNOU OPENNET for Post basic B.Sc nursing
• IGNOU OPENMAT for MBA admissions
IGNOU Application Process 2021
Follow the simple 4 steps applications process for admission in IGNOU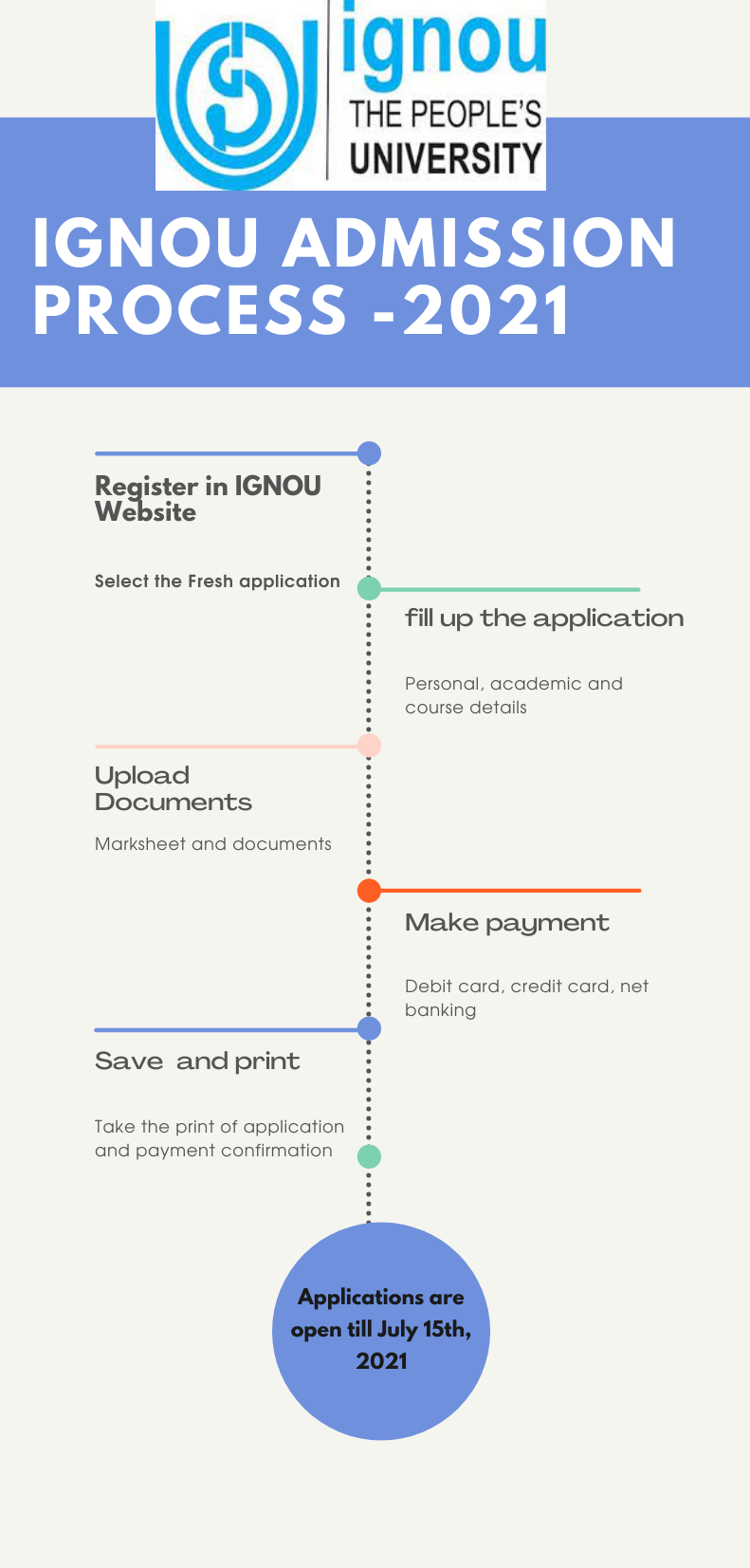 1. Step 1: Register in IGNOU Website :
First step is, you need to visit IGNOU official site and do registration using new account.
Select the fresh application
https://ignouadmission.samarth.edu.in/
2. Step 2: Fill up application:
After registration, student need to login and fill personal details, program details, qualification details, course details, qualifications details.
3. Step 3: Upload documents
Upload following documents in portal.
• Photograph Copy (less than 100 KB in size)
• Scanned Signature (less than 100 KB in size)
• Scanned copy of Age Proof
• Scanned copy of relevant academic certificates (less than 400 KB in size)
• Scanned Copy of Experience Certificate (if any) (less than 400 KB in size)
• Scanned Copy of cast Category Certificate i.e SC/ST/OBC (less than 400 KB in size)
• Scanned Copy of BPL Certificate, if you are below Poverty Line(less than 400 KB in size)
4. Step 4: Payment
Make the payment of both registration and application fees. Students can make online payment using debit card, credit card, net banking, atm card pnb
5. Step 5: Save and print
After payment, take the print out of payment confirmation and application submission confirmation for your reference.
What is the course Fees in IGNOU?
Course fees in IGNOU is very less. For BA and B.com courses Fees range is from 8000 to 10,000. For B.Sc general fees is 14,000
For BCA, MCA, B.Ed, M.Ed fees ranges from 45K to 55K
What is the cost of IGNOU Examination Form?
IGNOU charges 60 Rs per examiniation per subject. Student can pay this fees in IGNOU Study center
If you need any further information, kindly post in comment. We will get back to you with answers.