Are you preparing for the medical exam 2021?
Good news!
NEET 2021 exam date is announced by NTA ( National Testing Agency) on the official website of NEET 2021.
Neet exam 2021 would be conducted on August 1, 2021.
NEET application process is expected to start in the 2nd week of June.
There was a delay in NEET 2021 Exam due to the ongoing pandemic. Many students who were preparing for the medical exams now have got a great relief as the date is finally declared.
NEET exam will be conducted offline and once a year. Students need to visit the center and write the exam. It will be an objective-based exam.
Duration of the exam – 3 Hrs
Timings – 2 PM to 5 PM
If there is no further delay in the exam, then according to NTA the NEET 2021 result will be expected in the first week of September.
Every year more than 15 lakh students appear in NEET exam for around 1 Lac medical seats including MBBS, BDS, AYUSH, B.VSc
The ratio is very competitive 1:15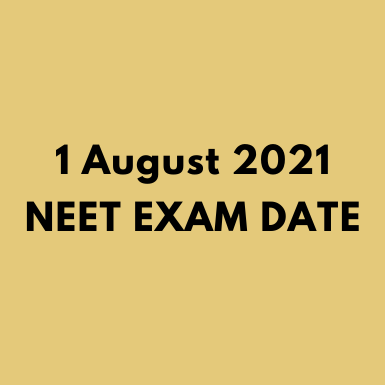 How to submit NEET registration form
NEET registration will be starting soon. Keep the track of NEET official website.
As per previous years, trend follow the following steps
Step 1: Register as a new user in NEET official website neet.nta.nic.in
Step 2: Fill in your personal and educational details in NEET 2021 online form.
Step 3: Upload required academic and personal documents in JPG/ JPEG format
Step 4: Click online payment and pay NEET registration fee
Step 5: Print the confirmation page
Doe's
• Read the instructions carefully mentioned on NEET official website neet.nta.nic.in
• Mention valid mobile no and email id for authorization and communication
• Fill in all correct details as after submission cannot change details
• Upload a clear photo
Don't
• Don't create multiple accounts
• Don't submit an application at the last moment
• Don't forget to download the confirmation page
NEET 2021 Syllabus
NEET 2021 syllabus will be based on the complete syllabus of class 11th and 12th. 4 Subjects you need to prepare are
• Physics
• Chemistry
• Zoology
• Botany
There will be total of 180 multiple choice questions where 45 questions will be for physics, 45 questions for Chemistry, 45 questions for Zoology and 45 questions will be for Botany. The correct answer will be +4 and the wrong answer will be -1 as per last years NEET exam.
As per the latest NEET news, the NEET exam is scheduled for 1st August 2021 in an offline mode for more than 11 languages in India.
Edumilestones wish aspiring doctors all the best for the NEET exam 2021.
Happy career