Do sounds of an aeroplane excite you? Do you run to the window to watch a flying aircraft? Collecting pictures of the plane, watching aeroplane movies, documentaries and researching on planes and pilot life is your natural stimulant?!! Then, my friend, you are ready to fly!
Lets see how to fix these wings on you!
There are 2 ways you can become a successful pilot.
Commercial Pilot
Indian Airforce
Lets understand each in-depth
1.

Commercial Pilot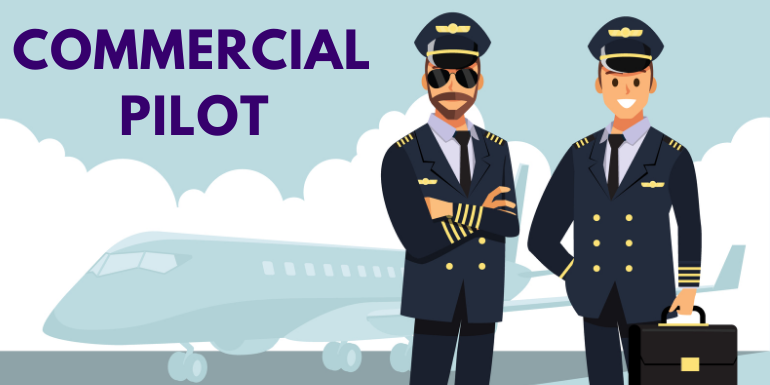 The pilots in this field fly aeroplane or helicopters for business purpose. It may include flying passengers from point A to B/cargo/emergency rescue operations/evacuation operations/traffic monitoring/fire fighting/aircraft testing/crop dusting.
Age Limit & Duration – Licensed to fly in the Civil Aviation category –
1. You must be 16 years of age to be eligible for Student pilot licence (SPL), and course duration is 6 months.
2. You must be 17 years of age to be eligible for Private pilot licence (PPL), and the course duration is 1 year.
3. You must be 18 years of age to qualify for Commercial pilot licence (CPL), and course duration is 3 years.
DGCA (Director General of Civil Aviation) is the authority that gives the Commercial pilot licence (CPL).
Best Flying schools in India
1. Government Flying Training School, Jakkur Aerodrome, Bangalore
2. Andhra Pradesh Flying Club, Hyderabad Airport, Hyderabad.
3. School of Aviation and Technology, Delhi Flying Club Ltd, New Delhi
4. Rajasthan State Flying School, Sanganer Airport, Jaipur.
5. Karnal Aviation Club, Kunjpura Road, Karnal, Haryana
6. Bihar Flying Institute, Civil Aerodrome, Patna, Bihar
7. Indira Gandhi Rashtriya Uran Akademi, Uttar Pradesh
8. Government Aviation Training Institute, Civil Aerodrome, Bhubaneshwar
9. Government flying club, Aerodrome, Lucknow
10.State Civil Aviation, UP Government Flying Center Kanpur & Varanasi
11.Flying Training Institute, Behala, Calcutta
12.Madhya Pradesh Flying Club
13. Assam Flying Club, Guwahati Airport, Guwahati.
14.Nagpur Flying Club, Nagpur
15.Orient Flying school, Chennai
1.

SPL (Student Pilot Licence)
Acquiring an SPL is not complex at all. It is similar to like a learners licence got before the permanent driving licence. There is absolutely no prior flying knowledge required to apply for SPL. One must possess an SPL licence before they can apply for CPL.
SPL Admission Process:
1. Candidate has to clear minimum of 10th board exam from a recognized board.
2. Medical fitness as per DGCA guidelines.
3. Once the candidate is ready, they can apply for SPL in any flying school approved by DGCA.
4. The candidate should attend the entrance written & oral exam held by DGCA representative or the Chief instructor of the flying institute.
5. Once cleared, the course begins.
6 Things you should know while preparing for SPL exam
1. National Airspace Systems
2. Basics of Aerodynamics
3. Practice with flight stimulators
4. Weather principles
5. Basic Manoeuvres
6. Training requirements
6 Books to read while preparing for Student Pilot Licence
1. The student Pilot Flight Manual
2. Pilots Handbook of Aeronautical Knowledge
3. Airplane Flying Handbook
4. You can be a Pilot!
5. 50 – Real-world pilot tips
6. Stick and Rudder – an explanation of the art of flying
Exams for SPL are usually held in July. The dates might change depending on the situation and institute. It is always good to keep a timely check on the submission form dates of the particular institute.
2.

CPL (Commercial Pilot Training)
PUC I&II/ senior secondary education is a crucial turn. Candidates need to be mindful while choosing subjects. Chemistry, mathematics and physics are mandatory to become a pilot. 50% and above scores in each of these subjects is a crucial requirement before joining any flying school.
On clearing the SPL/12th grade with 50% scores, candidates can apply for Commercial pilot training course form DGCA approved training institutes.
Process of admission into flying institutes
1. The flying institutes must be approved by DGCA (Director General of Civil Aviation).
2. Written test by the institute on subjects – Maths, Physics, English and Reasoning
3. Aptitude test
4. The medical test is very important. The candidate is expected to be fit and healthy as per DGCA.
5. To get a commercial pilot flying licence, the candidate must have completed 200 hours of flying in SPL.
6. Candidates need to pass theory paper to apply for CPL.
7. It is also mandatory for candidates to clear the entrance tests by the institutes to apply for CPL.
The course cost ranges from ?40 Lakhs to ?75 Lakhs, depending on the course & institute chosen. Bank loans are also available.
Commercial Pilot salary package
1. Fresher earns 10 lakhs – 15 lakhs per annum
2. Senior pilots earn 65 lakhs – 1 crore per annum
Books to read - If you are applying for CPL or SPL, then read the books mentioned under SPL.
3. Private Pilot Licence
Here the candidate requires to pass the entrance exam conducted by DGCA. Minimum of 50 hours of flying is mandatory out of which 20 hours is solo flying.
Here too, the candidate is required to have a good health history, pass flying tests, written tests to qualify for PPL.
Exams are conducted once in 3 months.
Course cost – PPL flying institutes charges are usually ?11,000 to ?19,000 per hour. Around 50 hours of PPL training is required.
Salary of Private pilots – It ranges from 1 Lakh to 10 Lakh a month
These are the various options available in the civil aviation zone.
Now, lets look into the government sector of flying.
2.
Indian Airforce
Indian airforce is one of the arms of Indian armed forces. Its primary mission is to secure Indian airspace and to conduct aerial warfare during armed conflicts.
How to become an Indian Airforce Pilot (IAF)?
NDA (National Defence Academy) is an esteemed organization to join the flying space. It is situated in Khadakwasla at Pune, Maharashtra.
NDAs motto is "Service Before Self". This is taught first to the cadets before anything else.
A cadet must undergo a training of 6 terms, i.e. 3years before graduating from NDA. On completing the graduation, the candidates are commissioned as pilots in one of the Air force stations.
NDA Eligibility – Students who had completed 10th + PUC with Physics and Maths can apply for NDA.
Age limit – Minimum age should be 16 and a half years, and maximum age should be 19 and a half years.
NDA Selection Process – NDA selects candidates through a written exam which consists of English, physics, chemistry, maths, general aptitude, history, geography and current affairs set by the UPSC board. After clearing the written test, candidates move on to attending SSB test.
SSB (Service selection board) lines up a series of interviews covering psychological training, aptitude, team skills, physical skills, social skills and medical tests. SSB has 2 stages of an interview –
1. Stage 1 – OIR (Officer Intelligence Rating) test and PP&DT (Picture perception & Description) test.
2. Stage 2 – Group testing officer tasks, interview, psychology tests and the conference.
Within 1 hour SSB results are announced, and the selected candidates are sent for medical tests.
June and January is the time of the selection process. Hence it is essential to keep a close check with the application submission dates.
The candidates are sent to Airforce Academy (AFA) at Dindigul, Hyderabad for 1 year of training after they finish their program successfully.
Pilot dream in IAF after graduation? Yes! Possible!
There are 3 ways of becoming a pilot after graduation.
1. CDSE (Combined Defence Service Examination) – conducted twice a year by the UPSC. Online applications are available. Candidates will get a permanent commission through this mode of entry.
Age limit is 20-24 years and unmarried at the time of applying.
Engineering candidates can also apply for CDSE exam.
2. NCC Special Entry - As an Air Wing Senior Division C Certificate holder of the National Cadet Corps, candidates can apply to the Flying Branch of the Indian Air Force. Men and women can join the Air Force through this mode of entry. Application forms are available online to fill & submit.
Age limit for NCC special entry is 20-24 years.
3. AFCAT (Airforce common admission test)
It is an entrance test conducted with the help of C-DAC(Centre for Development of Advanced Computing) for candidates who are willing to join IAF as commissioned officers in flying, ground duty (technical and non-technical).
Age limit for AFCAT is 20-24 years. The upper limit of candidates who are holding CPL issued by DGCA is relaxed to 26 years.
I would encourage you to grace yourself with skills required in the space of flying right from an early age that is 10th grade. You can read articles, books, watch documentaries, and listen to inspiring people who are successful in this field and follow the process.
Hard work yields success! Fly safely!
You will also like: