Women are making remarkable progress over the last hundred years to establish a bright career for themselves breaking the age-old stereotypes associated with them having certain types of careers. They are the best examples of how delicately an individual can beautifully balance between work and personal life. But, sometimes, it happens so that they've to choose a sector of their apathy. It mostly happens when they're not rightly guided towards choosing their career or lack the information.
Are you among the girls with high aspirations but don't know what are some of the best professions for women and girls in India? Don't worry. This blog highlights the same! Most importantly, the careers you can pick are not limited to these 10 listed here. So we will be telling you how to explore all the career options available to you in the later part of the blog.
Top 10 Jobs for Women and Girls in India
Now let us take a look at some of the top-tier jobs for women in India.
1. Human Resources
A highly sought-after corporate job in the present-day world is the Human Resource Manager. And for women, there's been a tremendous increase of opportunities at this particular position. An HR manager is responsible for planning, coordinating, and directing the administrative staff in the organization they are working in. They supervise the recruiting, interviewing, and onboarding of new candidates in the company. Moreover, they indulge in strategic planning and act as a bridge between the employees and the organization. To become an HR, you need to have specific qualifications. You can pursue an MBA degree in Human Resources or acquire a Post Graduate Diploma in HR as well.
Abundant colleges are offering these courses to potential candidates. Getting in-hand experience through internships before landing a job is highly recommendable.
The average base salary for a Human Resource Manager is INR 6,90,614 per year. It can start anywhere between INR 18,000-55,000 per month and reach up to INR 1,50,000 per month for experienced professionals.
2. Doctor
One of the prestigious and high-paying jobs for women could be being a doctor. As we all know, a doctor has the responsibility of communicating with the patients, diagnosing their respective problems, and successfully providing treatment. As a doctor, you can even engage yourself with multiple hospitals and have your chamber. The primary duty of the doctors is to assist patients with diet, hygiene, and preventive healthcare. Being called a 'lady doctor is prestigious! Every doctor specializes in individual fields and assists their patients accordingly.
You can be a doctor and specialize in any of the following fields:
General Physician

Child Specialist

Cardiologist

Neurologist

Gynaecologist

Dermatologist

Psychologist
The list isn't limited to the above-stated profiles. To be a doctor you need to crack the NEET exam (read how to crack NEET Exam for medical in the First Attempt) and complete your MD degree from medical college. Post completion, you are free to go for higher studies as well and can pursue MBBS.
The national average salary of doctors in India is INR 59,500 per month. Freshers can start with INR 30,000 per month which can go up to INR 1,00,000 per month. This is the lower range, The actual range can go much higher depending on location, experience and specialization.
3. Data Scientist
One of the most in-demand profiles in India at the very moment is Data Scientist. If you are a woman with high aspirations and excellent analytical skills, this may be the thing for you. A data scientist is responsible for analyzing, processing, and modelling data to evaluate the results and developing actionable plans for the firm they are in. Their primary role involves To be a successful data scientist, you should be extremely skilled in the following:
Machine Learning Techniques

Risk Analysis

Programming

Mathematics

Statistical Analysis

Data Mining

Research

Big Data Platforms

Cloud Tools

Data Warehousing and structures
Being a Data Scientist will require you to pursue a bachelor's degree in Data Science or any closely related subject followed by a postgraduate degree in Data Science. You can even acquire specialization in a particular area to improve your skills and have better chances to be considered by reputed firms.
The national average salary for a Data Scientist is around INR 10,00,000 per year in India. Salary can range from INR 30,000 per month to INR 1,00,000 per month depending on your skills, experience and the company you choose with the scope to increase further.
4. Fashion Designer
One of the most popular and high-paying jobs for women is Fashion Designer. The gorgeous dress you wear on any occasion is a gift from supremely talented designers. A fashion designer is responsible for making the particular look of individual garments including the garment's shape and colour, design, fabrics, and all the related aspects. Their primary job is to sketch designs of clothing, accessories, and footwear. Furthermore, they give instructions to the tailor on how the garment needs to be made.
The most popular and reputed fashion institute in India is the National Institute of Fashion Technology. To get a chance in NIFT, candidates need to crack the entrance conducted by the authorities. After completing their respective degrees in Fashion Designing or Fashion Merchandising, they are all set to step out to the outer world.
The average base salary of a Fashion Designer in India is INR 3,74,595 per year. Starting with INR 10,000 per month, the salary goes up to INR 65,000 per month for experienced workers.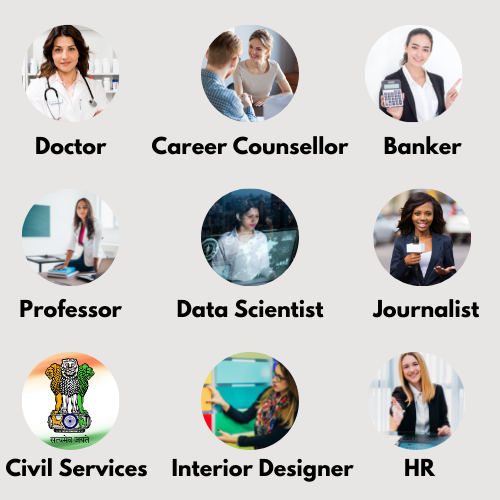 5. Journalist
One of the most esteemed and gainful jobs women can have is that of a Journalist. Journalists are primarily responsible for collecting and writing the trending news to help those reach the common people. The job particularly involves writing, editing, and copy submission. Being in the media house you can have a lot of options to explore:
Journalist

News Writer

Sport Journalist

Copywriter

Anchor

Assistant Producer

Photojournalist

Videographer

PR

Advertising Head
To be a journalist, you need to have a postgraduate degree in Mass Communication and Journalism. You can even choose to specialize in a particular field like PR, advertising, online media, and so on.
A journalist makes an average base salary of INR 3,88,882 per year. Starting with INR 16,000 per month, an experienced journalist can earn up to INR 81,000 per month.
6. Banker
An estimable job for women can be as a banker. You can either choose to be a retail banker or a commercial banker. Retail bankers serve the general banker while commercial bankers handle small or medium-sized companies to provide them with the related services and help them expand their business. Precisely, bankers are the face of their organization in the concerned local community. Other than serving their clients, bankers are also responsible for managing junior staff, assisting the customers, and finishing assignments and required paperwork as necessary.
Pursuing a degree in banking is required to become an efficient banker.
Followed by your degree you might land an internship and get a better understanding of the job profile. The average base salary for bankers in India is INR 3,78,640 per annum. It ranges from INR 2,46,000 per annum to INR 70,00,000 per annum.
7. Career Counselor
In the digital world where most people are fighting confusion to choose the right career path, the need for career counsellors is undeniable. Women can have the most promising job experience as professional career counsellors where they will be guiding the students to choose the right career path based on their interests and capabilities. Moreover, they will be also able to help working professionals caught amidst the heck of stress and dilemma regarding job switches. Other than working with any firm that provides career counselling services, you can have your firm too.
Becoming a career counsellor will require you to get a bachelor's degree (preferable in Psychology) followed by the Certified Career Analyst (CCA) program.
The average base salary for a career counsellor in India is INR 3,10,186 per year. Freshers can expect INR 22,000 per month while it can go up to INR 1,00,000 per month for experienced counsellors.
8. Interior Designer
A stylish and lucrative job for women could be that of an interior designer. An interior designer's role is varied however she primarily involves providing the perfect design advice for the optimal safe occupation of those who operate in the interior space. An interior designer puts advice on the interior template and layout of a building and suggests different reconfigurations including products and surfaces. They not only assist their clients but at times also a consultant to the experts or contractors.
Pursuing a career as an Interior Designers will require you to finish your Masters in Interior Designing. Certification in Interior Designing is indeed an added advantage.
The average base salary for Interior Designers in India is INR 3,05,029 per year. The income range mostly varies between INR 15,000 per month to INR 44,000 per month.
9. UPSC Civil Services
One of the most estimable jobs one can ever aspire to have is the UPSC Civil Services. UPSC Civil Services examination is among the most coveted entrances in the country. All India services include Indian Foreign Services (IFS), Indian Administrative Service (IAS), Indian Police Service (IPS), Indian Corporate Law Service (ICLS), and so on. Each sector has different job responsibilities to be handled by the candidate.
Stats show how over the past few years many women have attempted the entrance and have come out with flying colours. Being into the UPSC Civil Services, you need to crack the entrance first. Make sure to check out the basic eligibility criteria for females from the official website.
As per the 7th pay commission, an IAS gets the basic salary of INR 56,100 per month. Besides they are benefited from all sorts of allowances that include health, travel, and medical.
10. Professor
Last but not least! Establishing your career as a respectable professor would be simply amazing! A professor is responsible for teaching the students at the colleges and universities in a particular educational stream. Typically, they have the responsibility to teach undergraduate or postgraduate courses in their fields of expertise. Other than that, they might be even engaged in research works and writing research papers.
Becoming a professor will require you to hold a PhD degree. You can start as an Assistant Professor in a university and your PhD degree. Once you are done with the same and awarded with a "Doctorate" before your name, your position will be elevated to that of a permanent lecturer in the workplace.
Starting at a minimum salary of INR 30,000 per month, permanent lecturers earn up to INR 2,00,000 per month.
Career Library
Most people end up in careers they dont like. Do you know why? It is because they are not aware of the vast career options available to them. There are more than 150 career options available for women. No matter what lifestyle you prefer, there is a job out there that will suit your requirement. Dont settle for less than what you want, explore all the career options available on our Career Library so that you can pick the career right for you.
Which career is suitable for you?
Did you know that people who choose careers suitable for their personality type and interest end up much happier, less stressed and earn higher incomes than those who end up in unsuitable careers? So how to know which career suits you? There are two options.
One, you can take a Psychometric Career Assessment test which will tell you about your personality and suitable careers. This online test has helped more than 1,50,000+ students and professionals to find suitable career options and has proven to have the highest accuracy among all the Career Assessments online.
Two, go for a Career Counselling session where a qualified and trained professional will guide you through a specialized and detailed report from a 5 Dimensional Career Assessment and help you in either finding a suitable career or help you with getting into a career that you are interested in. Find a Career Counsellor and get a Career Counselling session done.
Wrapping Up
Considering the present-day scenario and demand, these were the best ten jobs for women and girls and India. I hope I could make my points clear and precise to you. Happy Reading!